Trustworthy, Reliable Forklift Spare Parts Supplier for over 30 years
LYF
Forklift Parts Sdn Bhd
, formerly
LIAN YIAP FORKLIFT PARTS SDN BHD,
is one of Malaysia's oldest pioneer and industry-leading forklift parts supplier. Established since 1981, we are located in Segambut Industrial Area, Kuala Lumpur. We conduct business worldwide, with customers spanning across the continent of Europe, North America, Latin America, Africa, Middle East and Southeast Asia.
For over 30 years,
LYF
Forklift Parts Sdn Bhd
has established a reputation as the industry expert. Our commitment to supply high quality forklift replacement parts in a timely and cost effective manner while ensuring total customer satisfaction is the cornerstone of our success.
Today, we strive to further extend our local and global presence by actively reaching out to new customers while forging even stronger relationship with our existing client base.
Extended Selections of Top Quality OEM and Aftermarket Replacement Parts
Being in the industry for over 30 years enable us to screen through numerous aftermarket replacement parts for top quality and sourced for the best pricing OEM parts. Some of the renowned OEM brands we carry include (but not limited to):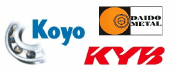 Our customers enjoy the benefit of having different pricing levels for most of our forklift replacement parts, ranging from higher priced best quality Genuine Parts to reasonably priced aftermarket parts, depending on the budget and application needs.
We are proud of the quality of the aftermarket replacement parts we offer. Repeat orders from regular customers on these fine products are simply the best testament to their integrity and reliability. Continuous effort is being carried out to expand the selections while we vigorously push for higher quality standards for our aftermarket replacement parts.
Authorized Dealer for Toyota, Mitsubishi, Nissan and Caterpillar Forklift Parts
We are proud authorized dealer of Toyota, Mitsubishi, Nissan and Caterpillar Genuine Forklift Parts. Maintaining our dealership status since our early establishment has elevated our expertise to a level unrivaled by our peers for all the esteemed brands above.
Meeting our sales target commitment on a regular basis enabled us to bargain for better pricing with the principles, subsequently transferring the cost savings to our valued customers.
Service, Repair and Supply of Used Forklift Parts
Our capabilities are not limited to selling forklift parts. We can also service and repair used parts, including (but not limited to) lift / tilt cylinders, axles, radiators, just to name a few. We believe recommending service or repair on operative used part instead of encouraging customer to replace with new ones is not only more economical and promotes green environment, it is the right thing to do.